Don´t ask why, But am a Massive lover of all things stationery. Office supplies, Notebooks, Pens. I am there. So considering it is one of my absolute passions I figured, why not share all of my favs with you? So here are the items I have been loving at the moment!
Stabilo Pens (Point 88, fine 0.4)
Okay First off can I just say…OMG, I LOVE THESE PENS. When I first saw these pens they were all over Pinterest and they just looked so aesthetically pleasing.  These are definitely the pens that every colour coder, doodler, and pen lover should have. 1. They come in all different colours like yes. 2. they are a fine point. 3. they don´t leak through your paper! I got these pens off amazon for a good price but you can get different amounts, I currently have a pack of 25. But they have smaller packs and bigger packages for your heart's content. And they make your stationery collection very appealing, they have their own jar on my desk.
Pentel Slicci 0.4 tip pen
These pens are my favourite note taking pens they are very VERY fine and are consistent throughout all of your strokes. This pen is smaller than average, both shorter and slimmer so keep that in mind. They come in a majority of colours. I personally prefer Midnight Blue which is like a navy blue out of their collection.
Fringe Monthly & Weekly Planner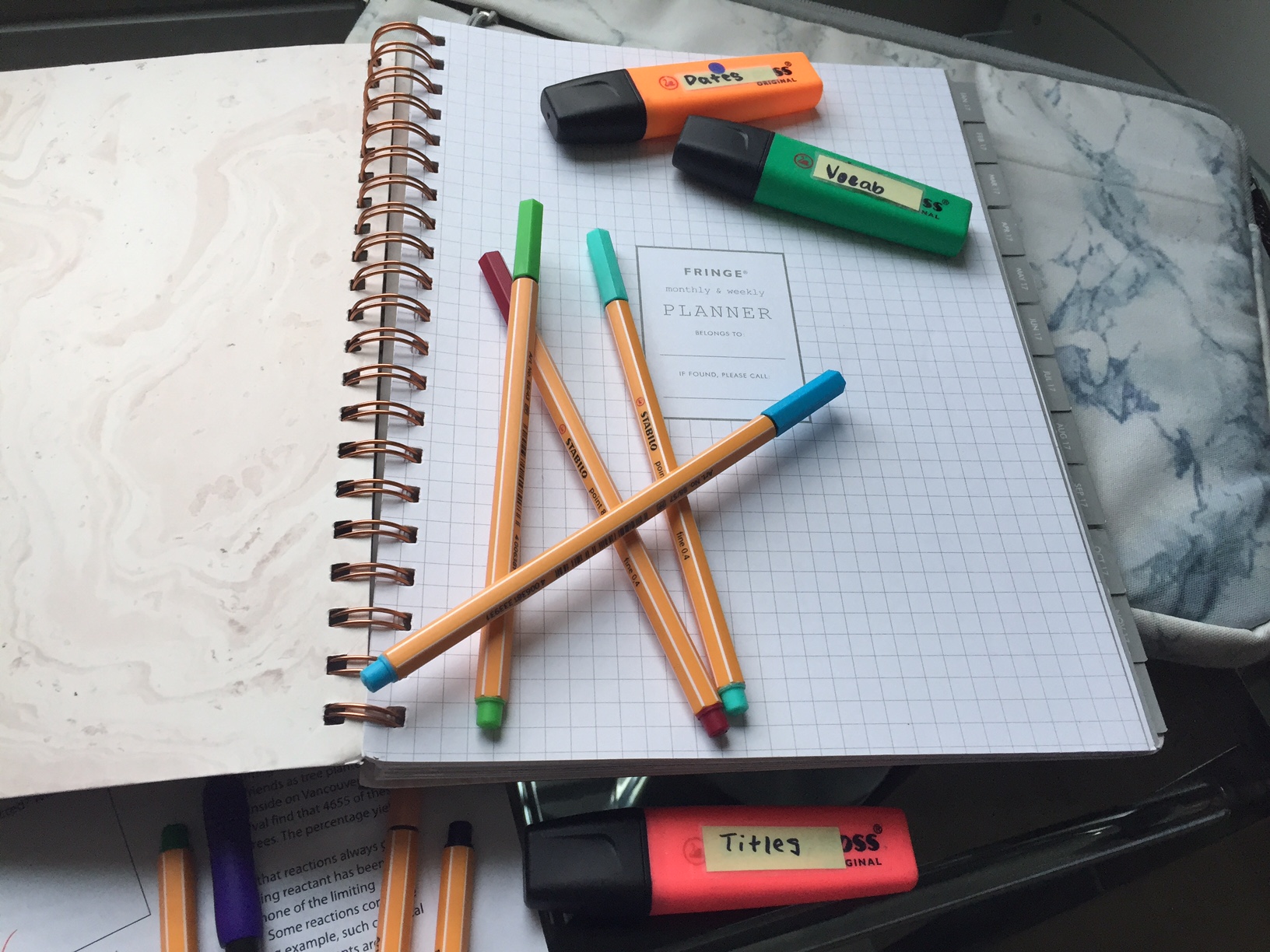 Now, this is my 2017 agenda/planner, I constantly use this to write down all of my homework, meetings, due dates, and tests and it has really helped me to stay on top of all of my assignments. I would strongly recommend all those busy bees to get one, But this system only works for some people but if you have other strategies to stay organised please share them in the comments.
Mosiso Laptop sleeve (marble print)
I recently got this laptop sleeve and I have been using it none stop, it is lined inside so you know your laptop is nice and secure. It also has a small pocket on the front for a charger and earphones. And it comes in a marble print so what is not to love, right? Also, since it is nice and compact I can fit it inside of my Herschel´s bag without it being too squished. (this is a 13inch case).
Stabilo Boss Highlighters.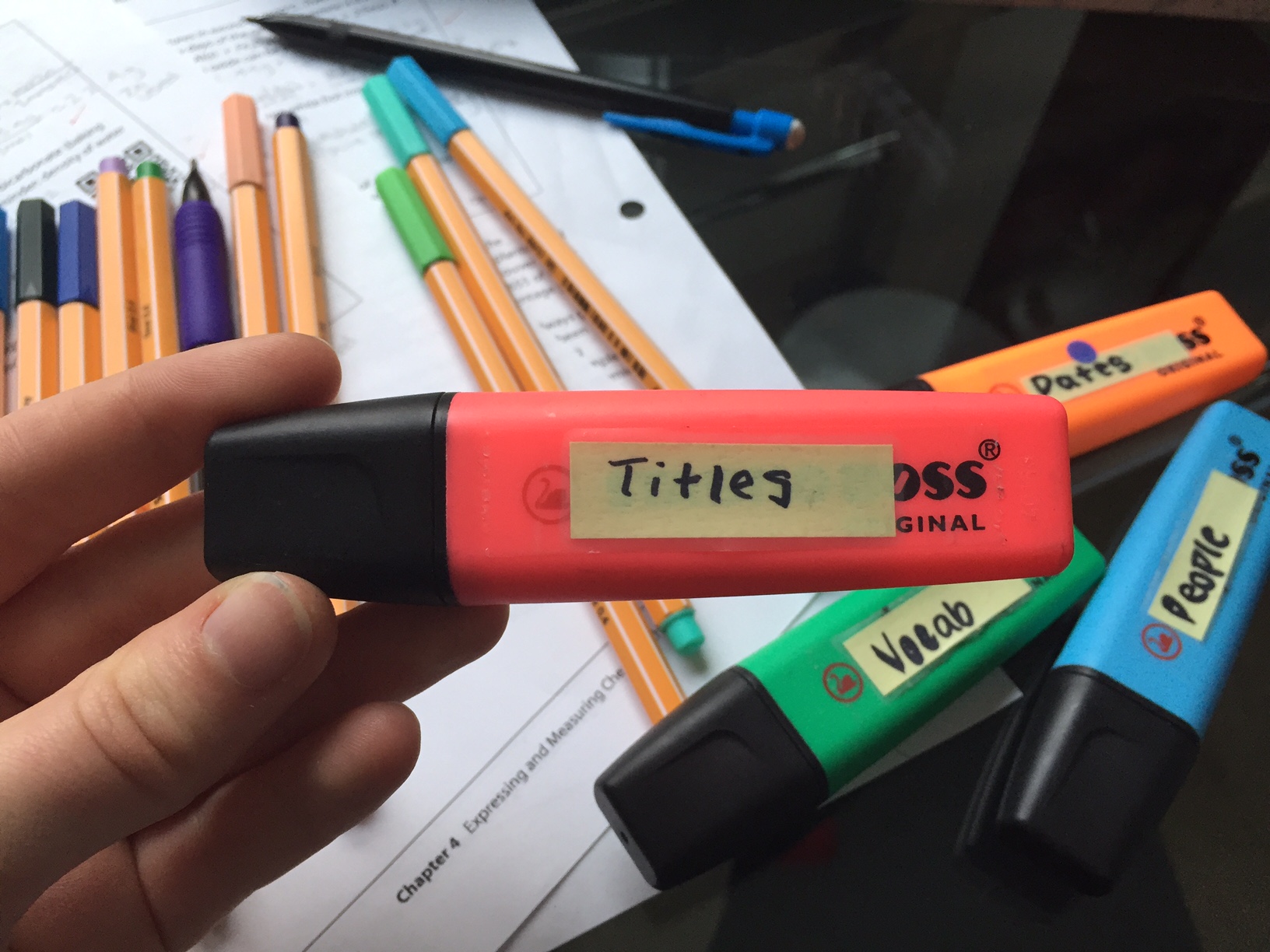 These highlighters are a MUST HAVE, they are my favourite ones to use while I am studying, 1. They do not leak through your page 2. They come in pastel colours (I do not own them YET) 3. The Boss highlighter can last for  24 hours, so if you leave the cap off they will still work they same for 24 hours 4. It has a fat tip so you know you are highlighting the whole word 5. They fit very nicely in your hand. I would definitely recommend these highlighters to anybody who loves to highlight/colour coding. Also, I label my highlighters with different tasks, so I can study the topics a lot easier when I do a quick scan I label mine with (Dates, People, Vocab, Titles, and Random).
Those are my top five stationery picks right now, I hope you found some interesting stationery items that you are now thinking of adding to your collection. Been love these products so much and I use them EVERYDAY. Thank you so much for reading, and I will see you next week.