Over the past few years, the Liebster award has become a huge part of the blogging community.Basically, it translates to the most preferred or dearest. It was created so more bloggers could share their amazing work with others around them.
I would like to thank these two amazing bloggers who nominated me, Solange and Isabella
When I first saw the nomination for the Liebster Award I screamed (no joke). I was over the moon with excitement, and even more so when I got the second notification. So I would like to thank these two outstanding bloggers who saw something in imhayley.com that they liked. Who also then decided to share it with the people around them. So, thank you it means the absolute world to me.
Firstly, I am going to start off with the questions from Solange
What was your motivation to start blogging?
My motivation to start blogging was a bit confusing. It was just an idea I always had in the back of my head. For me, it was just an idea. I had absolutely no clue about how to transform it into a reality. It wasn't until I saw a coffee mug in a run-down thrift shop that said ¨Try again, fail again, fail better¨. It was then when I realized that if there was something I wanted to do I might fail. But as long as I get back on my feet, it doesn't matter if I fail again, just as long as I fail better. So my motivation to start blogging was essentially a coffee cup.
How did you choose your niche?
I didn't, I decided very early on that there were multiple things I loved. Lifestyle, beauty, traveling, food etc that I wasn't going to choose one but all of them.
What advice would you give to your younger self?
I would tell my self to try more things, join more clubs/councils and just know everything works out in the end. No matter how dark the skies may seem I will be fine.
Which season is your favorite and why?
I love the season of fall when the leaves are changing colors and the weather is getting colder. Omg can it just come sooner, I am waiting to pull out all of my knitted sweaters and fall makeup.
If you could change one thing on earth what would it be and why?
This is such a hard question to answer, but one thing that stands out to me would be poverty. I would change the earth so that there were no more droughts, No more un necessary violence, all kids got an education, and climate change was not a problem. I would do this so that the people I see on the passing streets and the children living in 3rd world countries have the same opportunities as I do.
What is your favorite quote?
¨try again, fail again, fail better¨
One blog everybody needs to read?
Poppy Deyes has an amazing blog that I have been following for a long time. Her posts are so genuine and her photos are oh so good omg. But she is an amazing blogger who deserves the world so make sure you go check out her blog. (Click on her name). And her blog is just so pleasing to look at too!
People who chew with their mouth open make me want to jump out of the nearest window ASAP. Just the sound that it makes when the food is slopping around in their mouth…………….ew I can't even begin to describe how much that gets on my nerves. Even writing about it makes the hairs on my neck stand on end.
What are three things that make the world better for you?
Firstly, it would have to be music. It is one of the few things on this earth that can describe any situation. Sometimes it makes me want to dance around my room with my hairbrush as a microphone. Or makes me stare aimlessly out the car window as a sad song rings through my ears. Music is one thing in the world that can describe me. Two other things are my friends and family, they are my rocks through any situation. And they are the people that shaped me into the person I am today. In my eyes, they make the world better.
Are you a human being or a human doing?
For this question, I didn't know the difference between the two, so I looked it up. According to google a human being lives through the soul and makes love-based choices. While human doings live through the mind and makes strategic-based choices. I would have to say from my view, I am more of a human being. Mainly because I follow my heart, everything I do is for love. Even if the road is harder and not the most logical path. I will do what my heart tells me, before anything else.
What do you like most about yourself?
Everything. I love how much I have accomplished in my life. I love my quirky laughs and even my chubby kid cheeks. It took me a long time to get to this point in my life. But I am proud of who I am as a person and I think I am a pretty amazing human being. I am not saying I am perfect, but I like who I have become and I wouldn't change a thing.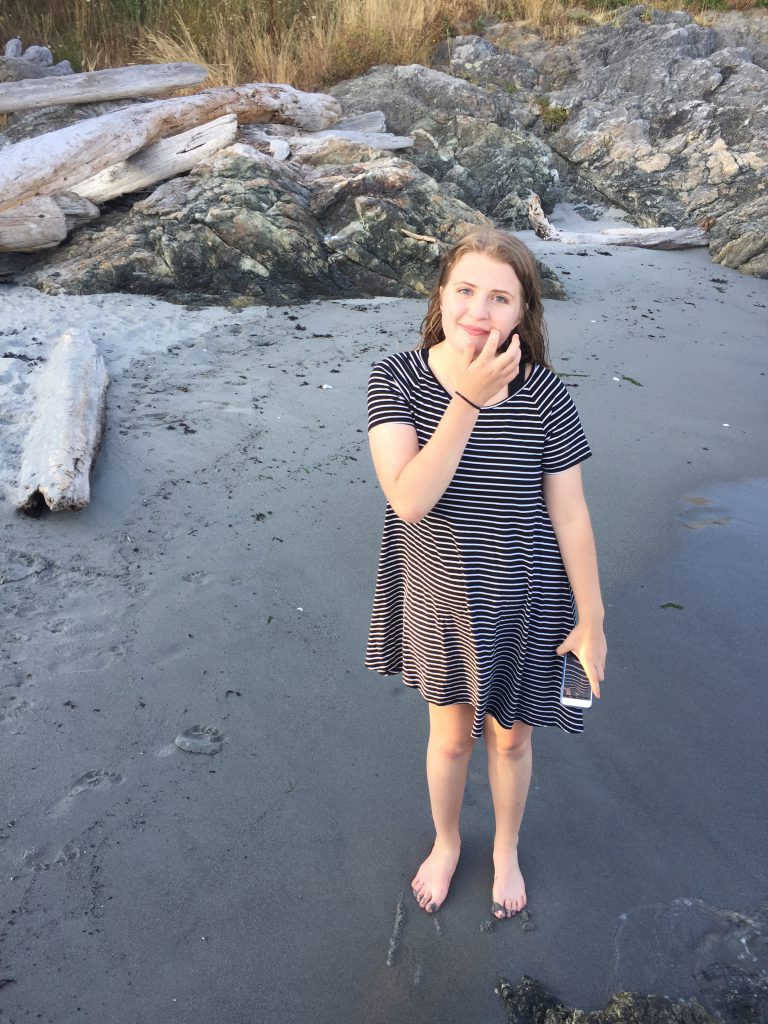 Now the questions from Isabella
No, I do not, and I don't know if I will. If I did get a tattoo I would get it on my ribs or my shoulder it just the question of what I would get.
Live forever or travel back in time?
Oh, thats a really good question I honestly don't know. If I were to live forever could I say a certain age or would I just get older and older until I was just bones?? But, if I was to travel back in time I would choose either the 50s or I would go back to the like Roman empire or to the Greeks just so I could see the amazing architecture and the culture ( hopefully not to get killed)
Favourite fashion item you can´t live without?
either my black slip on vans or my classic jean jacket. I live in these two items and I don't know what I would do If anything ever happened to them. Although they are dingy, dirty, and worn out they make my heart happy.
How long have you been blogging?
Almost 1 year, coming on September 6th!!
What job would you have if money was no object?
Something that I always thought would be a cool job would be an archeologist. Discovering objects of the past would be amazing. To be able to find hidden settlements, tombs, kinda like an Indian Jones movie without all the bugs.
One piece of advice to an inspiring blogger?
To be your own creation. Since I have started blogging I have discovered tons and tons of amazing blogger but, one thing I have noticed is that a large number of them are all the same. So try to be your own blogger do not think that your blog has to look like another to get the same attraction. People will be drawn to your blog because you are different.
Where do you want to be in 5 years?
That's a hard question, but I am a person that believes in the process that everything happens for a reason. So I don´t know where I will be in 5 years or even 2. I do know I will be happy and that I am where I am supposed to be.
Whats your favorite photo you have taken on your blog to date?
My favorite photo on my blog at the moment would be the pictures on my Stripped Back Skin Care Routine Mainly because those pictures just look so cozy and simple.
If you could join a team for a blogger who would you pick?
I would choose Maria J because she is an amazing human being and I always find my self on her blog clicking post after post. So even if I had the chance to meet her it would be a dream.
What is the best film you have seen this year?
This is hard but I absolutely adored ¨A Dogs Purpose¨ but if you are a dog lover this is a movie that will make you look at them completely differently. And it also has KJ Apa in it so that is a win.
One item you can´t live without?
Lip balm, I get chapped lips all the time so if I didn't have my Burt's bees lip balm I would be so lost. In about every single bag I own, I always have lip balm handy.
Okay, that was a lot of writing but I hope you guys learned something new about me. So now I am going to nominate some fellow bloggers. By no means do they have to do all these questions but I would like them to know that I love their blogs and who they are as people. So make sure to check them out!
What are some weird food combinations you enjoy?
Who is your biggest inspiration in life?
When did something start out badly for you but in the end, it was great?
What's the best / worst practical joke that you've played on someone or that was played on you?
When was the last time you got to tell someone "I told you so."?
What are you interested in that most people aren't?
If you could have an all-expenses paid trip to see any famous world monument, which monument would you choose?
What was the last song you sang along to?
What languages do you wish you could speak?
So those are my 9 questions for the Liebster Award. Once again to those bloggers, you do not have to do these questions. I just wanted you guys to know that I love your blogs and who you are as people. So yeah, this was an amazing experience and I can not wait until next years Liebster Award.